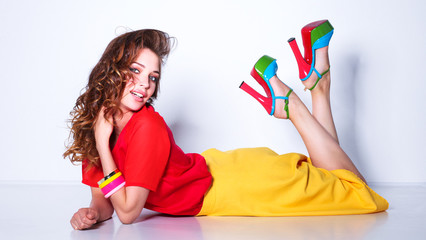 Can I wear wedges with a wrap dress? A halter dress? A bodycon dress? Or a shift dress? What should I style it with? Diamond earrings? A tote bag? Or maybe a clutch and a silk scarf?
Wedges have been out already for a while. They are hot, comfortable, and trendy. They are great for spring, summer, and fall. But even all of this doesn't make them easier to style. A lot of women are afraid of wearing wedges because of how risky they are in terms of style. Women are confused on how to pick a pair of wedges for a certain dress without ruining the whole outfit. In fact, wedges can be styled in a million of different ways. And celebrities like Reese Witherspoon, Jennifer Aniston, and Jessica Alba are a proof for that.
So, let's try to match a fancy dress and wedges like many celebrities do.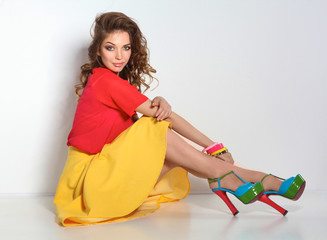 How to Style Dresses with Wedges
Despite the fact the most women consider stilettos to be the most feminine shoes ever, wedges can also look great and delicate, elongating the legs and making them even slimmer. You just have to find what suits you best as with any other pair of shoes.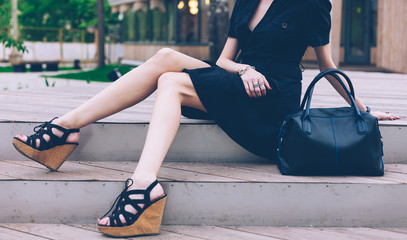 So, how exactly can you style wedges if you prefer wearing them with dresses?
Bright summer cork wedges and a button-down midi dress. Don't be afraid of bright shoes. Go for yellow or green cork wedges and complement them with a blue button-down summer dress and a white T-shirt underneath. Add a minimalist necklace and a pair of hoop earrings. And you're ready to go.

Another great way to wear wedges is by complementing them with a dress and a blazer. Go for a bright red dress and a dusty pink oversize blazer. Finish the look by adding a pair of the ankle strap wedge sandals in mocha or caramel color shade. Wearing lots of block colors on the top is a huge trend now.

One more way of styling a pair of wedge sandals is by creating a very relaxed, casual look. Get a pair of classic black wedges. Complement them with a pink midi dress and a striped long sleeve top. One more detail is black tights. This look is great for early autumn days as it allows to stay warm even if it is raining outside. Add a chunky necklace if you want to.

For the next outfit, get a patterned white dress with a white belt. Finish the outfit by adding a pair of ankle strap wedge espadrilles in grey or cream shade. This outfit is inspired by Kate Middleton, who is one of those women who know how to style wedges to look chic and sophisticated. Don't go for heavy jewelry. A pair of delicate earrings will perfectly suit the look.

And the last but not the least, go for a light floral off shoulder midi dress and a pair of beige or white lace-up espadrille wedge sandals.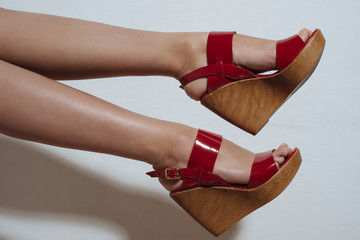 Wedge sandals are one of those classic wardrobe pieces that will never really go out of style. So, having them in your wardrobe is definitely a good idea. Don't doubt, find your own perfect pair of wedges and rock them with a dress during summer and fall.